Hey! Guyes …. Welcome BACK to UVD Junction. Today We Back Bring a Loot For you. That's a Big Loot for Everyone Those Who Used prime Membership in Amazon
How To Get ₹1000 Off On ₹1000 Shopping?
Offer is Exclusively For Prime Members Only
1, 1st Of All Just Visit This Amazon Cashback Page
2. You Will See 5 Bill Payment / Recharge Services There
3. Now Initiate –
₹10 Mobile Recharge On Any Number
₹10 Electricity Recharge For Any Number
₹20 Min DTH Recharge On Any Number
₹10 Water Bill Payment
And Do Bill Payment on Piped Gas Line
4. After Each Successful Payment , You Will Receive ₹200 Off Coupon ( You Can Claim Coupon From Amazon Link From Your SMS or Email)
Eg. Suppose You Completed 3 Offers , Then You Will Receive ₹600 Off On ₹1000 , If You Complete 4 Offers Then ₹800 Off On ₹1000 & If You Complete All 5 Offers Then ₹1000 Off On ₹1000
We Can Easily Complete At least 3 Services – Thus, 600 Off on 1000 is Also Big Loot
5. Now Visit This
6. Add Anything Into Your Cart Worth ₹1000+
7. On Payment Page , You Will See Coupon Already Applied (Must Collect The Coupon From Step 4)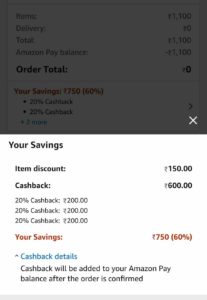 8. Enjoy !! The Bada Cashback , Cashback Will Be Credited Within 3 Days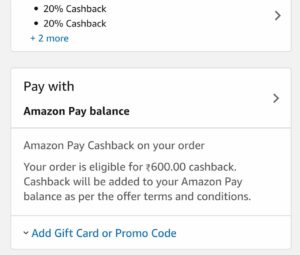 The Offer is valid from July 4, 2019 to July 31, 2019 (both days inclusive)
Proof Of My Purchase ( I Completed 3 Offers)
---
More Details :-
What is the validity of the offer?
Unlocked shopping offer is valid until 31 July 2019. Offer is valid max once per customer during the offer period.
3) Who is eligible for this offer?
Only customers who see this offer and then do the mobile recharge, DTH recharge, electricity, Water & piped gas bill payment on Amazon will receive this shopping 'collect offer' unlocked over email/SMS. Stacked offers can get unlocked on respective bill payments on Amazon. Post clicking on 'collect offer' and 'order now', customer can do the shopping transaction to avail the cashback eligible as per the order.
4) Where will I get this shopping offer unlocked?
After your mobile recharge/DTH recharge/electricity/Water/gas bill transaction, you will receive an email (if you have a registered email account with Amazon) or SMS (if you have an account with only mobile number registered) with the offer details and a 'collect offer' option. You can collect this offer and do your shopping on Amazon to avail cashback
5) Which all categories is the 'shopping' offer applicable?
This shopping offer is applicable across all shopping products on Amazon.in except Recharges, bill payments, load money, gift cards, Kindle e-books, Laptops, TVs, Mobiles, Precious Jewellery, Furniture, Forrest Essentials, Smartphones, ovens, dishwasher, chimney, Fridges, Washing Machines, TVs, Large Appliances, Precious Jewellery, Forrest Essentials, Fridges, Silver Jewellery, Prime, Gift Cards, Load Amazon Pay Balance
6) When will I get my benefit?
Cashback will be credited within 3 business days of doing the shopping transaction.
---
❤ Jinke Pass Bill Details nhi h Unke liye Small help.
1: Prepaid : Jio Punjab) Your Jio Number) Bill ₹10
2 : DTH : Tatasky 1095523708 Bill ₹20
3 : Electricity Bill : Gujarat UGVCL 73108002287 Bill ₹10 [ Last 2 Digit Random Dalo ]
4 : Piped Gas Bill : Siti – UP 2004062 Bill ₹10 [ Last 4 Digits Random Dalo ]
5 : Water Bill : PHED Rajasthan 240112801213 Bill ₹55
Total Invest ₹105 & Got ₹1000 ❤