AIRTEL FREE INTERNET -TESTED 100% WORKING IN 2020 (MOBILE & PC) + TroidVPN
Hello Guys, I am making This Airtel Free Internet Tricks January 2020 post on the day of uttarayan which is also known as " makarsankranti" in many places. so Happy Uttarayan Guys. Here is i will Provide you Loot of 2020 That is Unlimited Airtel Free 4G which will work for 100% for you in this new Year.
Update:- Newly Working Free Airtel UC MINI Internet 4G Trick is added ( check Trick-11) Updated:-10/1/2020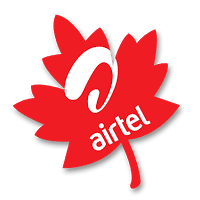 Airtel Free Internet 2020 – Trick 1
AIRTEL WYNK HOST TRICK FOR AIRTEL FREE 4G NET 2020
1. 1st of all Download Wynk Application which is powered by Airtel from Given Link. : Click Here To Download Wynk
2. Now After Installing the App Run The Application with a Active Data Pack which You got
3. Now Click on the MY ACCOUNT in wynk app and Click on TRY FREE
4. Click on Select Wynk Freedom Plan Which is Totally Free.
5. Now Download Tunnel Guru for PC or Droid VPN for Android.( Droid Vpn Link is Given above)
6. Connect Your Net with APN : airtelgprs.com
7. Now Main Task is to Open Tunnel Guru or PD Proxy and Go To Settings and Then Options.
8. Go To Advance Settings and FinD Parent Proxy.
9. Put Parent Proxy as a Put IP: 188.138.61.118, Port: 3128
10. Now Click on Headers and Write as : Host: mo.wynk.in/X-Online-Host:mo.wynk.in
11. Now Connect it With TCP 443 Port.
12. Voillaa!!! You will get Connected!!!
Enjoy Airtel Free InternetNote:- This Above Given Airtel Wynk Host Trick Is confirmed working in Delhi, Haryana and North states of India…..Try in your State and Reply whether its working for you or Not….if Its Not Working Then Try it with Delhi SIM Car
---
---
---
Airtel Free Internet 2020 – Trick 2
LATEST – AIRTEL FREE 3G/4G DROID VPN TRICK 2020- AIRTEL FREE INTERNET
1. 1st Of All Download DroidVPN From Here
2. After Download Go To This DroidVPN Link and SignUp for New Account: – Sign up
3. If You Have Already An Account On The Droidvpn Then You Can Use Here for Airtel Tricks
4. Now Open DroidVPN app and Now Click On Settings In Droid VPN
5. Now select connection protocol > select TCP
6. Select Proxy Settings as >> Enable
7. Selext Proxy Server as >> 195.189.123.135
8. And Port as >> 3128
9. Now Click on HTTP headers and Put HTTP HEADERS
Host: 180.179.103.247/
X-Online-Host: 180.179.103.247/
Or

Host: 180.179.207.111/
X-Online-Host: 180.179.207.111/
10. Now Open the Settings and Select any One Free Servers from ListIf You are Using and Wish to Use Troid Vpn then,
---
---
Airtel Free Internet 2020 – Trick 3
Airtel Free Internet Trick For Troid VPN ( NEW TRICK + PROOF IS IN IMAGES )
1.Download and Open Troid VPN.
2.Select Any Free Server From Troid VPN
Set Port As TCP
Rport– 443
Lport– 0
Now Just Go to advance settings.
Must Tick mark on ( Use Proxy for TCP Connection )
And Put Below Settings
Proxy host – 188.138.61.118 or 178.254.13.112
Port – 3128
Host – Host: 180.179.207.111/@
Done Now press save Button and Then connect it (it will Get connect instantly)
Or you can Use BELOW Setting also if above doesn't work
1st of all Open TroidVPN >> Select Any Available Free Server and >> Set TCP Port as
Rport– 443
Lport– 0
Now Go to Advance Settings.
Set DNS – 8.8.8.8.8.8.8.8.4.4
Must Tick mark on ( Use Proxy for TCP Connection )
Proxy host – 188.138.61.118 or 178.254.13.112
Port – 3128
Host – Host: one.airtel.in/@ or Host: airtellive.com/@
Done Now press save Button and Then connect it (it will Get connect instantly) 11. Voila Its Connected Enjoy Truly Highspeed Airtel 4G Free Internet in 2020 with Free Airtel 3G and 4G.
---
---
Here is Latest Working Airtel Tcp 2020 – Airtel Free Internet trick (Updated 10/1/2020)
1. Use Pd Proxy For Setup
2. UseTCP Port as-3128 port
3. And Get Proxy List From – Freeproxy.cz
4. Unlimited Host Trick – for creating new host as your own just add anything before airtel.in
for example
xyz.airtel.in
adesfgs.airtel.in
even coolzTricks.airtel.in
chd.airtel.in
:v i know its awkward but its working fine in up east
---
---
HERE IS THE SETTINGS AND PROOF OF TROIDVPN APP TRICK WITH AIRTEL :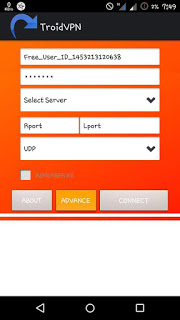 ---
---
Airtel Free Internet 2020 – Trick 4
AIRTEL WORKING FREE HOSTS FOR AIRTEL FREE INTERNET 2020
Here are some working Free Hosts List Which is Tested and Confirmed working in many states in Indiayou can even replace it one by one to Test its efficacy and speeds
one.airtellive.com
live.airtelworld.com
125.21.246.113
125.21.246.114
125.21.246.115
125.21.246.116
125.21.246.117
125.21.241.115
125.21.241.90
122.170.122.201
122.170.122.202
one.airtellive.com
live.airtelworld.com
buddiesmoney.airtel.in
---
---
Airtel Free Internet 2020 – Trick 5
Airtel Proxy Trick For Free 4G – Airtel Free Internet
Here i found some working Proxies for Airtel Free Internet in 2016 which is tested and found working in many statesAs You all Know That Proxy Tricks Are most Loved as one doesn't have to set much and download any extra apps just set The Proxy and you are ready to Go For Free 3G Internet in Airtel Below IS the List of Working Proxies for Airtel Free Internet
4everproxy.com OR 192.30.136.222
213.202.215.157 ( try this first)
youtubefreeproxy.com
freevideoproxy.com
95.211.209.163
zendproxy.com
85.17.141.35
www.air-proxy.com
5.10.71.134 OR Jetproxy.com
5.199.140.148 OR proxy.hmastuff.com
63.25.153.7
213.202.215.157
german-proxy.de
prx.im or 176.126.237.199
webproxy.stealthy.co
0000a-fast-proxy.de
www.air-proxy.com
185.12.6.15 (resume supported)
And Use Port as -80
---
---
Airtel Free Internet 2020 – Trick 6
Working Home Pages for Airtel Free Internet 2020
airtelgurus.com or airtelgurus.in [Mostly Found Working ]
one.airtel.in
m.airtellive.com
180.179.207.111
180.179.207.113
buddies.airtelmoney.in
Airtel Proxy Setting For Computer (PC) / Laptop
1. Open Firefox
2. Navigate Tools > Options > Network > Setting > Manual setting.
3. Use any one proxy from Above Given Proxy Lists
Note- If you get low loading speed then disable javascript. You will definately feel the difference.
Proxy: 176.126.237.199 ( or as above)
Port- 80
APN- airtelgprs.com
Home page:one.airtel.in ( or above described Hosts)
---
---
Airtel Free Internet 2020 – Trick 7
Working Free Airtel 4G Internet – Uc Handler Trick 2020 (January)
Updated:- 10 January 2020
You have to Just Follow below steps

1. 1st of all Just Goto
Your Mobile Setting >> Network Setting >> Access point Names(APN)

2. Now Create New APN As below
Apn- airtelgprs.com
Proxy – uc6.ucweb.com
Port- 80
3. Now Save Above settings

4. Now You have needed to Download any uc handler From Google
5.Open now uc handler and setting as below
proxy type: http
proxy server: buddies.airtelmoney.in
6. Save This Settings of Uc Handler and open it.

7. Coolz !!! Enjoy Free Airtel 3G Trick Browsing but,
Note :- Limit 250 mb per proxy server

change it to any other free host like
airtel.in
one.airtel.in
airtellive.com
etc to avoid sim block.
Enjoy
---
---
Airtel Free Internet 2020 – Trick 8
Free Airtel 4G Internet Tricks to get 4G speed in 3G pack
Update:- This Trick is Tested and Updated on 9th December 2019
1. First of All Do Recharge With Any Small 3G Pack in your Airtel Sim Card ( You can Activate Airtel Rs.27 3G pack )
2. Now Activate any small 2G data pack according to your Data use
3. Now In Rs.27 Pack You will get 80 MB Of 3G Data. So,Now Do some Surfing and Use some Data From That PAck And Left 30-40MB Of Data
4. Great!! Now,Open UC Browser In Your Android And Download Any File Of 80-100MB or Bigger Then That
5. Coolz ! Now You are getting 3G Speed for A Session (Don't Cut Your Data Off Otherwise Again You Will Get 2G Speed)
6. Now Do Downloading anything for 3G speed in 2G pack,Download Any File In Your Mobile With 3G Speed (apps From Playstore Also)
---
Airtel Free Internet 2020 – Trick 9
Working Airtel Free Internet TCP Trick January 2020
Now Install Nmd Vpn (PC users>
Download Config files From – Here
Now Just Copy All Config Files And Paste Them Into VPN Configs Directory Of NMD VPN (C:Program Files/NMDVPN/config/)
Now Just Connect Your Internet with APN-Airtelgprs.com And Then – Right Click On NMD VPN Icon In Desktop And Run as Admin.
After That – From Green System Tray Icon Connect Your Net With Your Config. You Get Connect.
Coolz!! Enjoy SuperFast Airtel Free 3G
Tested working in Rajasthan, Delhi and Many Other States Where TCP 443 Port are Open
---
Airtel Free Internet 2020 – Trick 10
Airtel Free 3g/4g Internet Trick with WebTunnel VPN January 2020
1.First Download WebTunnel Vpn app
2. After Installation of webtunnel vpn on your android device Open The app and Do following setting
3. In Webtunnel VPN app do following configurations
Header Host type – www.Tunelguru.com
server – select any free server ( Use server 9)
Proxy Host type – m.airtellive.com (or) 56789.airtel.in (or) any airtel free host
port – 80
next column select – Fastest HTTP:1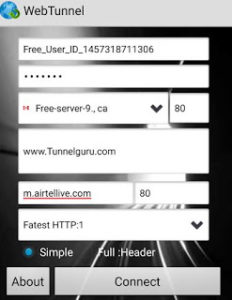 4. Now hit connect button
You are done.
You will be connected soon. Now you can enjoy Airtel free 3g/4g internet on your android device.

Note – WebTunnel vpn app has a daily limit of 250 mb . So you can only avail 250 mb free internet per day
Maintain zero balance in your airtel sim to avoid balance deduction
---
Final Words:- We are found This above given Airtel Free Internet Tricks 100% working in 2020. If Trick is Not Working In your State then Try another one and Do comment below To Get us Updated….All above Provided Tricks is For Educational Purpose only, we are not responsible for any loss