Go India Game 'Goa' Event Quiz Answers
Go India Game 'Goa' Event – Visit City & Earn Assured Reward | Free Goa Tickets
---
Goa Event Date & Duration :
This Go India Goa Event Will Take Place From 27th Nov To 29th Nov In Google Pay App. That Means Google Will Officially Expand The Go India Game Upto 30th November 2020.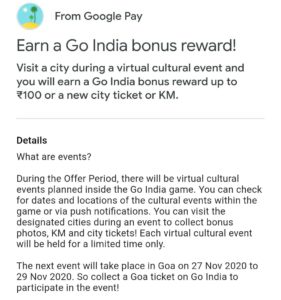 ---
Go India Goa Event Rewards :
During This Time Period , Users Have To Visit The Goa City & Answers The Question Correctly To Win The Assured Scratch Card. From Scratching The Card , You Will Be Rewarded :
Upto ₹100 Cashback
Free KM To Travel The Another City
Another City Tickets
There Will be Total 5-6 Questions & You Need To Answer All Of Them Correctly To Get The Assured Scratch Card.
---
Get Assured Go India Goa Ticket Free
Step 1 : Go to Go India Offer Page and Tap on Goa Event
Step 2 : Tap on Goa Event and Share to get 1 Goa free (you should Have 0 )
Step 3 : Go to Tickets section and Gift the ticket you got so that you are left with 0 ticket.
Step 4 : Again do The Step 1 and then step 2 , You will have unlimited tickets
---
Google Pay Go India Game Goa Event – How To Visit Goa & Win Assured Bonus Reward
Free Goa Ticket – Goa is Rare City Ticket , But During The Goa Event You Will Get Assured Goa City Ticket By Just Sharing The Event Button Like We Did in Other Events.
This Goa Event Will Live From 27th To 29th November 2020
1. First of All Open Given Link using Google Pay App. :
2. If there is no Go India Offer Showing then Go to Play Store and Join Google Pay Beta and Wait for Sometime.
3. Now, You need to stay at Goa City and then you can play Google Pay Goa City Quiz.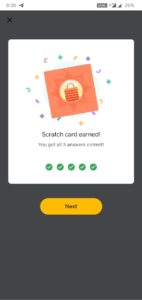 4. You Can Earn Goa City Tickets By Following Tasks In Google Pay Go India Game :-
Share Go India Map or City Photo Daily (5 Tickets)
Recharge Any Prepaid Plan
Pay For Google Play Recharge Code
Scan Google Pay QR Codes
Pay Bills
Pay On MakeMyTrip
Buy Gold
or
5. We will Giving Away Goa City Ticket on Our CoolzTricks Telegram Handle.
5. After Reaching On Goa City You need to Play Goa City Quiz.
Go India Goa Event City Quiz Answers :
Arpora Night Market
Gokarna
Dudhsagar Falls
Chapora Fort
Never Install Any Such Software or App
Kokum Juice
2
Curries
Se cathedral
District
We Are Adding More Answers ……
Goa Event Full Questions And Answers
Question 1 – Which of the following forts is located in Goa?
Answer 1 – Chapora Fort
Question 2 – Which of the following is a popular Goan drink?
Answer 2 – Kokum juice
Question 3 – The church located in Goa is the largest church in Asia
Answer 3 – Se Cathedral
Question 4 – Which of these beach is not located in Goa?
Answer 4 – Gokarna beach
Question 5 – You get a call from a person promising you city tickets. The caller asks you to install a software share over SME and you can get any ticket that you want. You will
Answer 5 – Never Install any such software or app
You need to Give 5 Correct Answers after Reaching on Goa City. Here are all Correct Answers and you can win Up To Rs.100 Google Pay Balance or City Ticket or KMs using this Quiz.
[ Answers Will be Added Soon In This Section ]
---
Proof Of Last Event